EVENT CANCELLED DUE TO COVID-19
Is God Anti- Gay, NZ Tour with Sam Allberry
Sam Allberry
https://www.rzim.org/speakers/sam-allberry
Bio
Sam speaks and writes widely on issues of sexuality and identity. He also ministers as a Bible teacher and pastor and is the author of several books.
Sam Allberry is a global speaker for Ravi Zacharias International Ministries. He is the author of a numerous books, including Why Bother With Church?, James For You, the bestselling Is God Anti-Gay? and most recently 7 Myths About Singleness.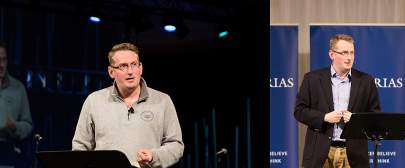 Sam studied theology at Wycliffe Hall in Oxford, before going on to work at St. Ebbe's Church in Oxford where he oversaw the ministry to university students. He then worked at St. Mary's Church in Maidenhead for several years. He is an ordained minister in the Church of England and has served on its governing body, the General Synod. Sam is a consulting editor for The Gospel Coalition.
Sam speaks widely on issues of sexuality and identity and continues to minister as a Bible teacher and pastor. In his spare time Sam enjoys hiking, American history, and slowly perfecting his recipe for Thai green curry.
Cities:
Christchurch | Wellington | Taupo | Hamilton | Auckland
Dates and Venues:
Christchurch 18th May
South West Baptist Church, 244 Lyttelton Street, Spreydon.
Wellington 19th May
Gateway Baptist Church, 33 Park Road, Miramar.
Taupo 20th May
Taupo Baptist Church, 141 Rifle Range Road, Taupo.
Hamilton 21st May
West Hamilton Community Church, 27A Rifle Range Road, Dinsdale.
Auckland 23rd May
Greenlane Christian Centre, 17 Marewa Road, Greenlane.
Time:
8.30am Registration and Coffee. 9.00 Start, 1.30pm finish.
Session Talks:
Understanding our culture on issues of sexuality
What the Bible teaches and how to communicate this
How the local church can be a place of grace and truth
A Pastoral Model for small-medium churches
Q & A
NB: There is NO lunch break. Instead we will arrange a bit more of a substantial morning tea to enable easier travelling between venues for Sam.
Investment:
$40.00pp EB | $45.00pp Reg | $25.00 Bible college or University Student