Resources Sale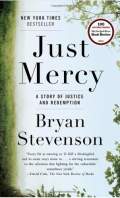 Just Mercy
Bryan Stevenson
A powerful true story about the potential for mercy to redeem us, and a clarion call to fix our broken system of justice—from one of the most brilliant and influential lawyers of our time. Read more...
Bryan Stevenson was a young lawyer when he founded the Equal Justice Initiative, a legal practice dedicated to defending those most desperate and in need: the poor, the wrongly condemned, and women and children trapped in the farthest reaches of our criminal justice system. One of his first cases was that of Walter McMillian, a young man who was sentenced to die for a notorious murder he insisted he didn't commit. The case drew Bryan into a tangle of conspiracy, political machination, and legal brinksmanship— and transformed his understanding of mercy and justice forever.
Just Mercy is at once an unforgettable account of an idealistic, gifted young lawyer's coming of age, a moving window into the lives of those he has defended, and an inspiring argument for compassion in the pursuit of true justice.
Soft cover book
$20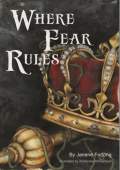 Where Fear Rules
Janene Forlong
Fear says, "You can't," Faith says, "You can." Read more...
This book is for people who feel they have a small amount of fearful tendencies, but it is also for those who recognise that they have quite a degree of fear and desire to be free.
Soft cover book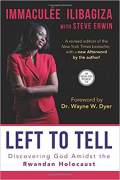 Left to Tell
Immaculee Ilibagiza
Immaculee Ilibagiza grew up in a country she loved, surrounded by a family she cherished. But in 1994 her idyllic world was ripped apart as Rwanda descended into a bloody genocide. Immaculee's family was brutally murdered during a killing spree that lasted three months and claimed the lives of nearly a million Rwandans. Incredibly, Immaculee survived the slaughter. Read more...
For 91 days, she and seven other women huddled silently together in the cramped bathroom of a local pastor while hundreds of machete-wielding killers hunted for them. It was during those endless hours of unspeakable terror that Immaculee discovered the power of prayer, eventually shedding her fear of death and forging a profound and lasting relationship with God. She emerged from her bathroom hideout having discovered the meaning of truly unconditional love—a love so strong she was able seek out and forgive her family's killers. The triumphant story of this remarkable young woman's journey through the darkness of genocide will inspire anyone whose life has been touched by fear, suffering, and loss.
Soft cover book
$20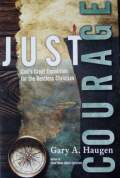 Just Courage
Gary Haugen
"There must be more to the Christian life than this--more than church each Sunday and waving to my neighbours and giving some clothes to Goodwill when I go through my closet each spring." Read more...
These aren't bad things, of course. But they're safe and comfortable and easy. And there's a reason they're not satisfying your desire for something more significant and meaningful--we're created by God for adventure. International Justice Mission president Gary Haugen has found that engaging in the fight for justice is the most deeply satisfying way of life. This book shows how we too can be a part of God's great expedition.
Soft cover book
$20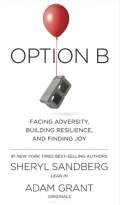 Option B
Sheryl Sandberg and Adam Grant
In 2015 Sheryl Sandberg's husband, Dave Goldberg, died suddenly at the age of forty-eight. Sandberg and her two young children were devastated, and she was certain that their lives would never have real joy or meaning again. Read more...
"I was in 'the void,'" she writes, "a vast emptiness that fills your heart and lungs and restricts your ability to think or even breathe." Her friend Adam Grant, a psychologist at Wharton, told her there are concrete steps people can take to recover and rebound from life-shattering experiences. We are not born with a fixed amount of resilience. It is a muscle that everyone can build.
Option B combines Sheryl's personal insights with Adam's eye-opening research on finding strength in the face of adversity. Beginning with the gut-wrenching moment when she finds her husband, Dave Goldberg, collapsed on a gym floor, Sheryl opens up her heart—and her journal—to describe the acute grief and isolation she felt in the wake of his death. But Option B goes beyond Sheryl's loss to explore how a broad range of people have overcome hardships including illness, job loss, sexual assault, natural disasters, and the violence of war. Their stories reveal the capacity of the human spirit to persevere... and to rediscover joy. Resilience comes from deep within us and from support outside us. Even after the most devastating events, it is possible to grow by finding deeper meaning and gaining greater appreciation in our lives. Option B illuminates how to help others in crisis, develop compassion for ourselves, raise strong children, and create resilient families, communities, and workplaces. Many of these lessons can be applied to everyday struggles, allowing us to brave whatever lies ahead.
Two weeks after losing her husband, Sheryl was preparing for a father-child activity. "I want Dave," she cried. Her friend replied, "Option A is not available," and then promised to help her make the most of Option B.
We all live some form of Option B. This book will help us all make the most of it.
Hard cover book
$28
$10.00
Currently unavailable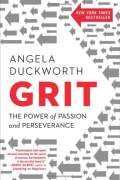 Grit
Angela Duckworth
In this instant New York Times bestseller, pioneering psychologist Angela Duckworth shows anyone striving to succeed—be it parents, students, educators, athletes, or business people—that the secret to outstanding achievement is not talent but a special blend of passion and persistence she calls "grit." Read more...
Drawing on her own powerful story as the daughter of a scientist who frequently noted her lack of "genius," Duckworth, now a celebrated researcher and professor, describes her early eye-opening stints in teaching, business consulting, and neuroscience, which led to the hypothesis that what really drives success is not "genius" but a unique combination of passion and long-term perseverance.
In Grit, she takes readers into the field to visit cadets struggling through their first days at West Point, teachers working in some of the toughest schools, and young finalists in the National Spelling Bee. She also mines fascinating insights from history and shows what can be gleaned from modern experiments in peak performance. Finally, she shares what she's learned from interviewing dozens of high achievers —from JP Morgan CEO Jamie Dimon to New Yorker cartoon editor Bob Mankoff to Seattle Seahawks Coach Pete Carroll.
Among Grit's most valuable insights:
Why any effort you make ultimately counts twice toward your goal
How grit can be learned, regardless of I.Q. or circumstances
How lifelong interest is triggered
How much of optimal practice is suffering and how much ecstasy
Which is better for your child—a warm embrace or high standards
The magic of the Hard Thing Rule
Winningly personal, insightful, and even life-changing, Grit is a book about what goes through your head when you fall down, and how that—not talent or luck—makes all the difference.
Hard cover book
30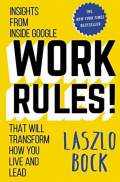 Work Rules!
Lazlo Bock
From the visionary head of Google's innovative People Operations comes a ground-breaking inquiry into the philosophy of work- and a blueprint for attracting the most spectacular talent to your business and ensuring that they succeed. Read more...
"We spend more time working than doing anything else in life. It's not right that the experience of work should be so demotivating and dehumanizing." So says Laszlo Bock, head of People Operations at the company that transformed how the world interacts with knowledge.
This insight is the heart of WORK RULES!, a compelling and surprisingly playful manifesto that offers lessons including:
Take away managers' power over employees
Learn from your best employees-and your worst
Hire only people who are smarter than you are, no matter how long it takes to find them Pay unfairly (it's more fair!)
Don't trust your gut: Use data to predict and shape the future
Default to open-be transparent and welcome feedback
If you're comfortable with the amount of freedom you've given your employees, you haven't gone far enough.
Drawing on the latest research in behavioural economics and a profound grasp of human psychology, WORK RULES! also provides teaching examples from a range of industries-including lauded companies that happen to be hideous places to work and little-known companies that achieve spectacular results by valuing and listening to their employees. Bock takes us inside one of history's most explosively successful businesses to reveal why Google is consistently rated one of the best places to work in the world, distilling 15 years of intensive worker R&D into principles that are easy to put into action, whether you're a team of one or a team of thousands.
WORK RULES! shows how to strike a balance between creativity and structure, leading to success you can measure in quality of life as well as market share. Read it to build a better company from within rather than from above; read it to reawaken your joy in what you do.
Hard cover book
25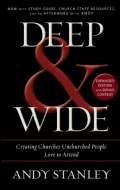 Deep & Wide
Andy Stanley
Andy Stanley's bestselling and award-winning vision for the local church now includes bonus content: a study guide, church staff helps, and an interview with Andy on the most frequently asked questions about Deep and Wide. With surprising candor and transparency pastor Andy Stanley explains how one of America's largest churches began with a high-profile divorce and a church split. But that's just the beginning. Read more...
Deep and Wide provides church leaders with an in-depth look into North Point Community Church and its strategy for creating churches unchurched people absolutely love to attend.
For the first time, Andy explains his strategy for preaching and programming to "dual audiences": mature believers and cynical unbelievers. He argues that preaching to dual audiences doesn't require communicators to "dumb down" the content. According to Stanley, it's all in the approach.
You'll be introduced to North Point's spiritual formation model: The Five Faith Catalysts. Leaders responsible for ministry programing and production will no doubt love Andy's discussion of the three essential ingredients for creating irresistible environments. For pastors willing to tackle the challenge of transitioning a local congregation, Andy includes a section entitled: Becoming Deep and Wide.
If your team is more concerned with who you are reaching than who you are keeping, the expanded edition of Deep & Wide will be more than a book you read; it will be a resource you come back to over and over!
Hard cover book
25
Soft cover book
20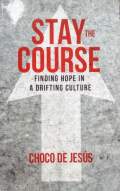 Stay the Course - Finding Hope in a Drifting Culture
Choco De Jesus
If you feel like the culture is shifting under your feet and you re powerless to get it back on track, you re not alone. Many of us see the powerful undercurrents of history that are taking place in front of our eyes. In response, some people sink into hopelessness while others struggle desperately to remain strong in their faith. Read more...
Yes, the culture is drifting, but God's presence, truth, grace, and power haven't changed at all. He is just as real, just as strong, and just as loving as ever. Even in frightening times, we can learn to stay focused on God's direction for our lives. He is the true north, and he will guide us. Pastor Choco De Jesús offers real hope and practical solutions. He clearly identifies the pressures of the culture, acknowledges our human tendency to drift, and provides biblical encouragement to stay the course in our walks with God. Combining powerful stories with surprising insights and sound biblical principles, Pastor Choco helps us discover God's path and follow it through good times and bad, always drawing closer to him.
Soft cover book
14.50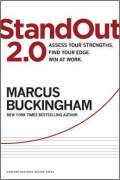 Stand Out 2.0
Markus Buckingham
The Groundbreaking Strengths Assessment from the Leader of the Strengths Revolution In the years since the publication of First, Break All the Rules and Now, Discover Your Strengths, millions have come to the simple but powerful realization that to get the most out of people, you must build on their strengths. And yet, as Marcus Buckingham astutely points out, though the strengths-based approach is now conventional wisdom, the tools and systems inside organizations--performance appraisals, training programs, and succession planning systems--remain stubbornly remedial and exclusively focused on measuring skills, finding gaps, and attempting to plug them.
It's a crisis for individuals and organizations, with management ideas and everyday practice utterly out of sync. That's about to change. StandOut 2.0 is a revolutionary book and tool that enables you to identify your strengths, and those of your team, and act on them. The original edition of StandOut provided top-notch insights from one of the world's foremost authorities on strengths, as well as access to a powerful, cutting-edge online assessment tool.
Hard cover book
26.00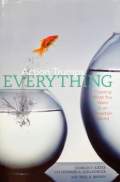 Action Trumps Everything
Charles Kiefer, Leonard A. Schlesinger, and Paul Brown
Soft cover book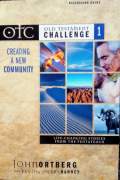 Old Testament Challenge: Creating a New Community (v. 1) Discussion Guide
John Ortberg, Kevin & Sherry Harney
Discover the Life-Changing Relevance of the Old Testament Creating a New Community Our hearts hunger for order and a sense of belonging in the chaos of life. We long for community.
Deep inside us, we yearn to connect with God and with those around us. That's not surprising---it's a reflection of God's own longing. Guiding you through the Pentateuch, this small group study reveals God's passionate desire for intimacy with his people and among his people. The Old Testament Challenge small group series is a high-impact tool for discovering the power and relevance of the Old Testament. This innovative series combines Bible study with an enjoyable, interactive format to help you and your group experience God's Word as it really is: energetic, immediate, and life-transforming.
Soft cover book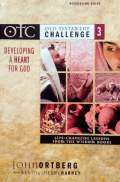 Old Testament Challenge: Developing a Heart for God (v. 3) Discussion Guide
John Ortberg, Kevin & Sherry Harney
Discover the Life-Changing Relevance of the Old Testament Developing a Heart for God There are some things in this life that always seem to be in high demand but short supply. Wisdom is one of them.
In our fast-paced world of sound bites and canned answers, we need a source of deep wisdom that does not change with each new fad and trend. The Wisdom Books of the Bible offer rivers of truth that will refresh thirsting hearts and souls. Part of the Old Testament Challenge series, this teaching guide and resource book helps you craft eight messages on what the Wisdom Books have to say about developing a heart for God. As never before, your congregation will discover God's passion for loving his children and teaching them to grow in an authentic love for him and others.
Soft cover book