Space Tourism and Bible Translation

Good Morning and Welcome to this week's Gospel and Culture update, by Alan Vink
Space Tourism and Bible Translation
Monday 26th July 2021
Space Tourism
POV. How on earth can this be justified? Someone please tell me why we should celebrate this madness? Christian leaders the world over should, IMO be absolutely outraged.
It is estimated that Bezos spent $5.5 billion US Dollars to achieve his space flight. That same amount of money could have brought clean water to 110 million people who currently have no access. Let's just say that again…..110 million people.
It could also:-
Save 37.5 million people from starving
Fully fund COVAX, securing vaccines for 2 billion people in low-income countries
Fully fund humanitarian efforts in Nigeria, The Democratic Republic of Congo, Afghanistan, Venezuela, Yemen, and Horn of Africa
Help countries adapt to climate change
Plant up to 5 billion trees
And the list could go on for a very long time including funding the Bible translation projects noted below.
And that's just one billionaires spend on this pursuit. Add in Branson and Musk and who knows how many others in Europe, China, Russia and probably India. "Dear God, we desperately need your help".
Here's just one of many articles written about this. Billionaires Jeff Bezos, Richard Branson & Elon Musk Could Save 41M People at Risk of Starvation.
Bible Translation
United Bible Societies with assistance of other mission partners have committed themselves to translate the Bible and scripture portions into 1200 new languages over the next 20 years. This commitment will see 600 million people reached with the Bible and scripture portions in their own language. Of this 1200 languages, 530 are in the Asia Pacific region and will see 50% more people engage with the Bible in their own mother tongue. Our ongoing commitment is to address Bible Poverty, literacy and engagement and to honour Gods commission of His word to go to all nations. For more information about translation projects that the New Zealand Bible Society is currently working on, go here.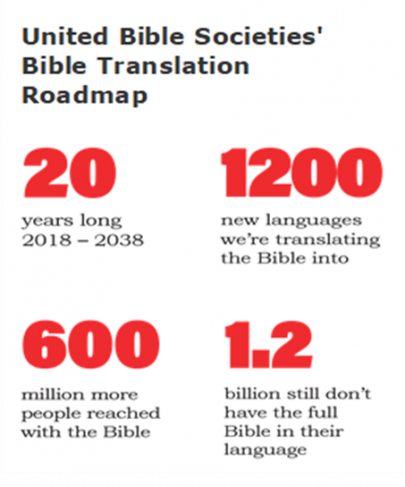 Alan Vink is currently the Executive Director for LeadershipWorx. Prior to this role he has been the Executive Director of Willow Creek Association NZ (WillowNZ), a Baptist pastor (23 years), Bible College teacher, and church consultant.