Why I Vax, Experts and ISIS-K

Good Morning and Welcome to this week's Gospel and Culture update, by Alan Vink
Why I Vax, Pandemic Experts and ISIS-K
Monday 30th August 2021
Why I choose to be vaccinated
POV. All of us as adults have personal agency. When it comes to the Covid-19 jab we are all doing our best to understand what we are taking or having administered. This is no different to understanding any medicine we may need. Most of us ask our Doc prior to taking a new medicine, what will it do, how long before it 'kicks in' and what are the side effects? These are fair and reasonable questions. We are entitled to know and the Doctor is required to tell us. Of course Dr Google seems a major source of information these days…….probably a mixed blessing.
So, when it comes to the Covid-19 vaccine and the Pfizer vaccine in particular I have done my own homework and decided to get vaccinated. No problem! I have read1, I have listened, I have thought deeply about it, I have prayed and I have made my decision. As far as I am concerned the reasons to get vaccinated are exceedingly compelling and far outweigh not to get vaccinated. Additionally, the reasons not to get vaccinated are very often based on misinformation from outliers in the science and medical community.
That said, I am aware of the concern around the long term effect of this vaccine, like 5-10 years out. That's fair but on balance it's a (small) risk that I am willing to make and it looks like 80% - 90% of New Zealanders are also willing to make it as well not to say the multiple millions all around the world.
And here is a short quote from Dr Siouxsie Wiles. "As reported on in Stuff's vaccine myth-busting project The Whole Truth the vaccines were subject to rigorous testing before approval and continued monitoring. The data also shows if vaccinated you are less likely to get Covid, or be hospitalised or die from the virus, and the risk of death or severe reaction from vaccines is miniscule. The data is showing that you're far less likely to get infected, and if you are infected you're far less infectious or infectious for less time. And with Delta all of that matters," Wiles said. A vaccine that produces full immunity does not exist for any virus, but the Pfizer is one of the most effective on the market."
Finally for now, if you need some more pro-vaccination convincing please have a read of this compelling article written by a Doctor on the front line
1 I have obtained a most helpful E-pamphlet titled, Understanding Covid Vaccination written by Dr James Ussher, scientist and researcher and Dr Gareth Jones, a Bioethicist. Both these people are Christians and attend Dunedin City Baptist Church. As the pamphlet is in a pdf format you will need to drop Liz a note and ask her for it please at liz.dobbs@leadershipworx.org.nz
A Panel of Experts Advising Government
POV. Here is a group of outstanding New Zealanders. These people (amongst others) have and are serving New Zealand as expert advisors to the NZ Government for the nation's response to the coronavirus pandemic. They are very clever people, highly qualified and really care about the health and wellbeing of all New Zealanders. What's more they are trained to think deeply about their area's of expertise, are independent thinkers and I doubt very much would buy into a pre-determined narrative from the Government about Covid-19 and the Vaccine. I trust these people and I for one am very grateful that these people are assisting Dr Bloomfield, Cabinet and the PM.
From left to right starting at the top.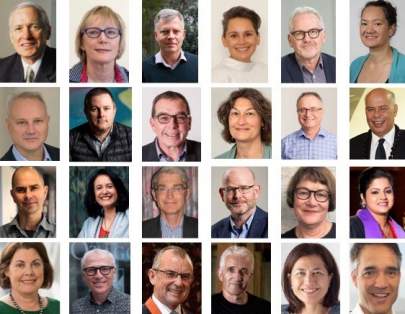 Professor Sir David Skegg - epidemiologist and public health physician, Dr Nikki Turner - a specialist in immunisation, primary healthcare and preventative child health, Prof Philip Hill - an epidemiologist with expertise in infectious diseases and research, Dr Maia Brewerton - lead clinician at the Department of Clinical Immunology and Allergy at Auckland Hospital, Prof David Murdoch - an infectious diseases expert and the Dean of the University of Otago, Christchurch., Dr Ella Iosua - a biostatistical expert at the University of Otago.
Rodney Jones (Special Advisor) - economist: a graduate of the University of Auckland with a MA (Hons) in Economics, Professor Shaun Hendy (Special Advisor) - Physicist: the first director of Te Pūnaha Matatini, a centre of research excellence in complex systems and data analytics, Dr Ian Town – Chief Science Advisor, Ministry of Health, Dr AnjaWerno – Chief of Pathology and Laboratories, Canterbury Health Laboratories, Dr Bryan Betty – Medical Director, Royal New Zealand College of General Practice, Dr Collin Tukuitonga – Head of Pacific and International Health at the University of Auckland (1998-2000). Expert in surveillance and prevention of chronic diseases.
Dr Erasmus Smit – Virologist, ESR, Dr Matire Harwood – Te Rōpū Whakakaupapa Urutā / Māori Pandemic Coordination Group, Dr Nigel Raymond – Infectious Disease Physician, Chair NZ Committee of Australasian Society for Infectious Disease, Professor Nigel French – Massey University researcher in Epidemiology, Molecular Epidemiology, Genomic Epidemiology, Microbiology, Food Safety, Dr Sally Roberts – Clinical Head of Microbiology and Acting Clinical Director of Pathology and Laboratory Medicine (LabPlus), National Clinical Lead for the IPC programme, Auckland District Health Board, Dr Shanika Perera – Medical Officer of Health, ARPHS (WDHB, ADHB, CMH)
Dr Virginia Hope – Medical Director, ESR, Professor Michael Baker – Department of Public Health, University of Otago, Sir Brian Roche - distinguished in business, accountancy and public service, Rob Fyfe CNZM - businessman and a former chief executive officer of Air New Zealand, Dr Debbie Ryan - policy and research specialist in Pacific health, Dr Dale Bramley - the chief executive officer of Waitemata District Health Board
Source: David Collins.
ISIS-K
Not sure exactly where ISIS-K fits in into the scheme of things in the Islamic world? Here is a brilliant and short read about ISIS-K, the terrorist group behind the bombing at the Kabul Airport a few days ago. It's a shocking read.
Alan Vink is currently the Executive Director for LeadershipWorx. Prior to this role he has been the Executive Director of Willow Creek Association NZ (WillowNZ), a Baptist pastor (23 years), Bible College teacher, and church consultant.