I Love a Congregation
Dear Pastors
I Love A Congregation
Today' blog is about a great love of mine. It's about my local church.
It's really true, I love a congregation. For 23 years I had the incredible privilege of leading and pastoring three (Baptist) congregations. Though I didn't always love the 'carry-on' that seems to accompany running a church I loved the congregations I served……the people, the relationships, the (new) friendships and of course the privilege of leading people into all that God had for us.
In 2006 I decided on a change of direction. I moved into the leadership development space. I began a 'new' vocation working with pastors and churches. That meant I no longer was leading my own church. Though I did a couple of short interim's and took a role as a teaching pastor on two occasions it wasn't quite the same. I loved my new work and still do today but I sure missed congregational life.
But things changed in September last year. My eldest son, Shane, who is Pastor of a (Baptist) church (and manager of a Christian social service) in Hamilton since 2015 invited me to join his church and 'get involved'. I need to tell you, it's pretty special when your 42 year old son invites your participation. It's usually the way round. So it wasn't hard to say yes.
So now 8 months on I am pleased to report that things have gone really well. Once again, I am deeply immersed in congregational life on a part-time basis joining my wife, Jeanette, who has been happily involved for last 7 of the 8 years also on a part-time basis. Although we live in Raglan, 40kms away we make it work. Serving this small church in the back blocks of Fairfield in Hamilton called Te Whanau Putahi (The Family Centre) has rekindled my love for a congregation……big time.
I love our worship gathering every Sunday morning and the community family dinner every Wednesday night. Hanging out with both saints and sinners twice every week is a most enjoyable gig.
I love seeing people far from God move toward Him and start praying and reading their bibles and moving toward a profession of faith. This never loses its beauty.
I love seeing pretty tough ex-prisoners and those for whom life has been very hard, little by little open their hearts in my men's small group.
I love seeing folks with alcoholic and drug problems making good choices.
I love seeing some pretty rough neighbourhood kids turn up 'out of the blue' and enjoy coming along (including their noisy and stroppy behaviours).
I love the fact that we are high on acceptance and very low on judgement. In fact judgement of other people is nearly out the door.
I love 'advocating' for those who are not being heard or fairly treated by the 'system'. In another life I would probably be a lawyer.
I love the fact that our building is a 'safe haven' and a second home for so many of our people. This is demonstrated by many folks coming an hour or so earlier to church, to drink coffee and chat.
I love the fact that we really care about 'family values' and have little interest in formalities and doing things a certain way because we have always done things a certain way.
I love the fact that we are very focused on transformation and minimally interested in busyness.
I love all my fellow leaders serving this bi-cultural and socially diverse congregation and observing their passion, generosity and sacrificial service.
I love seeing Shane gently and lovingly lead these precious people into the 'promised land'.
Do we always get things right? No…..no we don't. Are we perfect? Nope……we are not. But as a congregation and as a community of the redeemed we deeply desire to see the personality and power of Jesus at the centre of all we do. We are constantly motivated and inspired "to bring Good News to the poor, to proclaim that captives will be released, that the blind will see, that the oppressed will be set free, and that the time of the Lord's favour has come". Luke 4:18-19(NLT)
In a day when the church in the western world is declining and 'under siege' and despite so many scandals, there are amazing and stunning expressions of congregational life that truly reflect the values of scripture and where Jesus is present all around New Zealand. Some are traditional, some are contemporary, some are Pentecostal (charismatic) and others more liturgical. The name or style of a church is irrelevant. What matters is co-operating with the Holy Spirit and creating congregations that glorify our God, our King and our Saviour.
So to all of you who are feeling the weight of this present hour, I so hope you will be encouraged today. Please keep on! Be the very best 'hospital for sinners' you can be.
And finally the last word is from Perry Noble (and the header is Shane's)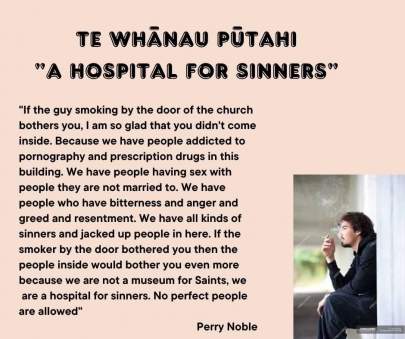 Blessings
Alan